WHEN YOU'VE GOT TO GO … ALL THE TIME
---
Treating Women with Overactive Bladder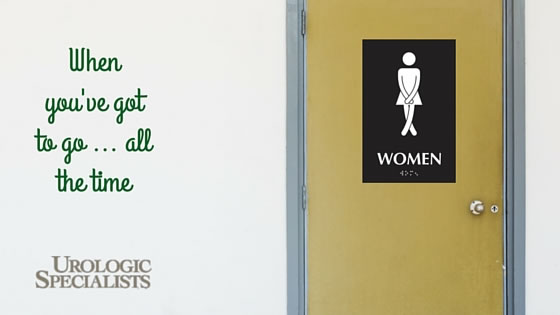 Is the need for bathroom breaks starting to take over your life? Are there situations when you can't make it to the bathroom in time? If so, you may have overactive bladder (OAB). This condition may be annoying but it is certainly not unusual. It's estimated as many as 43% of women have OAB with it becoming more common with age. OAB comes in many forms including:
Urinary urgency – A very sudden urge to go to the bathroom even if you've had nothing to drink for hours or already emptied your bladder.
Frequency – This means having to go at least eight times a day on a general basis.
Urine leakage - If you lose control of your bladder and can't stop yourself from urinating before you reach the bathroom.
Nocturia - Overactive bladder may disrupt your sleep, waking you up two or more times a night to urinate. Nocturia becomes more common as we age, but repeated, disruptive overnight urges are a familiar sign of overactive bladder.
The good news is that unlike their grandmother's generation, women today don't have to grin and bear it.
"Women need to know there are a number of extremely successful treatments for overactive bladder. They should not hesitate to schedule an appointment if this is something that is bothering them," said Curt Powell, MD of Urologic Specialists.
Dr. Powell is board certified in female pelvic medicine and reconstructive surgery. He, along with partners Sunshine Murray, MD and Scott Litwiller, MD have all received advanced training in women's urological issues. Their expert team at the Urologic Specialists Female Pelvic Medicine Center also includes a pelvic floor physical therapist and nursing staff all trained in helping women with OAB. They're the foremost experts in the region with clinics located in Oklahoma, Arkansas and Missouri.
"We work through three levels of treatment from conservative to surgical to help women get relief from their OAB symptoms as quickly and effectively as possible," said Dr. Powell.
Level one treatment includes physical therapy, dietary modifications including limiting caffeine and alcohol and lifestyle changes like not drinking fluids two to three hours before bed.
If that's not successful, level two treatment includes prescription medications. There are nearly a dozen different medicines that can help calm an overactive bladder.
Level three treatment includes advanced therapies including nerve stimulation or bladder injections with botox.
If you have the symptoms of overactive bladder, find relief today at Urologic Specialists. Call 918-749-8765 for an appointment or contact us online.